Engagement Photos:
Style Guide
So here's the run down.
We know it can be pretty daunting picking out what to wear for photos, so here are some pointers we've put together so y'all look and feel like a million bucks, while making sure the photos are focused y'all and your love for each other, rather than being distracted by your outfits. Full disclaimer, we are not fashionistas in the slightest. C wears socks with his Chacos, and Kat steals all of his shirts and wears them with her Birkenstocks, so chances are, you're way cooler than we are. These are just some general things we've picked up through trial and error, and please remember that these are merely suggestions, not rules!
Ultimately, we want y'all to look like yourselves-- it's not like if you don't follow these suggestions, your photos will suck. What's most important to us is that you feel like yourself and you like how you look. The more comfortable you feel, the more comfortable you will feel in front of the camera, and that's when we will be able to truly capture who y'all are as a couple!
So, here are some helpful tips on what to wear, what to expect, and some information about how much fun we will have.
Let's go!
PS: We just revamped our Pinterest boards, and we will be adding to them quite a bit! So if you want more engagement outfit inspo, go HERE.
If you are a little lost on what to wear, feel free to text Kat a few options and she can help you pick out a few outfits. That way, she can help make sure the outfits compliment each other and that they will work well with the environment we are shooting in, and she will make sure that the clothes don't cause distractions and take away from the photos.
Thinking of bringing multiple outfits to the session? Solid! But try to limit it to no more than two. Any more and it will majorly cut into our shooting time. Also be aware that if we are shooting in nature, chances are you'll be changing in the back of your car, or even out in the woods (we can bring a blanket and can make sure y'all are inconspicuous). If you aren't down with that, no worries! One outfit is totally okay too!
number two: location + outfits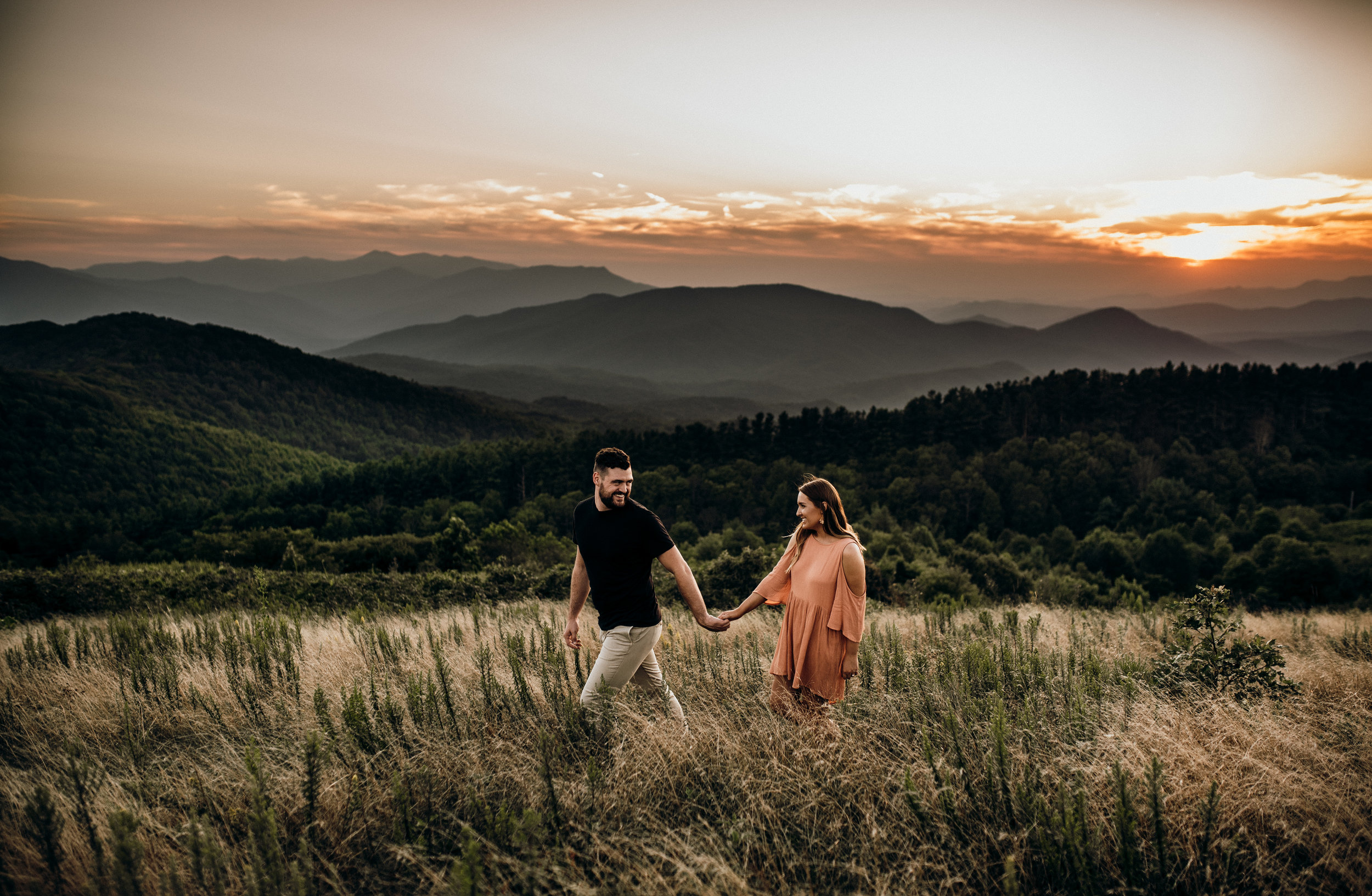 First, let's talk about how to choose your location.
1. Think about what y'all love to do. For some, it's hiking and camping. For some, it's going to the city. For others, it's going to cafes. We encourage you to think about something that has played an intricate part in your story, and to utilize it in your engagement photos.
2. Be okay with being around people. When we choose places in the mountains, we can usually expect some seclusion, but if that isn't the case, be okay with that! If you choose a cafe, understand that we will probably make y'all get cuddly while there are some people around. But that's okay! Just embrace it.
3. Stay true to who you are. Don't try to make yourself into something you aren't. If you don't love hiking, don't try to make that the point of your engagement shoot-- because 1. it won't tell a part of your story, and 2. by the time we get to the top, you'll be miserable, haha. If you don't like drinking coffee, why would you have your engagement session at a coffee shop? So, make sure that you choose a place that means something to you.
Here are some fun locations that really describe the couples we have been able to work with:
Scott has a rad motorcycle, so of course we took if for a spin during Natalie & Scott's couple session.
Carly & Joe took their engagement photos at their wedding venue (and cows were EVERYWHERE! So fun).
Lacey & Matt decided to take their photos at a beautiful spot in Dahlonega, Georgia, where they went to school together and got engaged.
Rocki & Alex decided to take their engagement photos in the mountains, a place that has meant a lot to them over the years.
Prathyusha & Prabu met and got engaged in Charlotte, so we did their engagement photos there, since it was such a special place for them!
Hannah & Ryan like to go to breweries together, so we decided to make that a part of their engagement session!
Okay, now let's talk about how to choose your clothes.
Make sure they make sense.
Think about the conditions and locations we are going to be shooting in and plan around it. If we are going to be hiking around the mountains, bring shoes with good grip and you won't twist your ankles in. If we are shooting on a sandy beach, it would look weird if you're wearing shoes. If it's freezing cold outside, bring lots of layers and warm clothes with wool socks and boots. If it's going to be hot, bring clothes that can breathe more so you don't have sweaty pit stains in the photos. Be as comfortable as you can be!
* A note on heels: They are usually not the best idea, unless you are freakishly good at walking in them, and we will be on pavement. Just a heads up!
Like we've said, make sure the materials you wear will keep you comfortable during the shoot not only for temperatures but also for being able to move around in. We definitely recommend bringing clothes that are "broken in" so that you'll be as comfortable as possible, and so you won't be self conscious about everything being where it should. We also love when people bring clothing or accessories that can show movement by catching wind, because it adds energy to the photos and looks freaking gorgeous!
But you definitely need to be able to move in what you're wearing. We have a lot of fun during these sessions and do a lot of directing, rather than stiff and awkward posing, so we never really know what we are going to get into, but we can guarantee that it'll be fun!
We typically recommend sticking with neutrals because they photograph a lot better. But "neutral" doesn't always mean black, white, and brown. There's a neutral to every color (mustard yellow, plum purple, forrest green, navy blue, burnt orange, etc.). Stay away from bright colors-- they distract from y'all. People will immediately be drawn to your neon pants or fluorescent shirt. The main colors we are talking about specifically are bright pinks, oranges, and reds, and any neon colors. If you have deep, olive skin, you might be the exception. But for the most part, it has the tendency to really distract from the photos. So just try to stay away from bright colors if you can, but if you're really, really wanting to wear pink or orange, make sure they're fairly muted/pastel, and maybe check with us, just to be safe! If you need some color inspo, feel free to scroll through our blog!
Avoid big, loud, chunky, crazy patterns. The smaller or more subtle, the better! If the pattern is too loud, it will distract from your faces. Flannels are always a yes in my book (probably because we wear one every day haha)! We usually try to avoid pairing too many patterns together because it makes the photos feel a little hectic and distracting from your faces and the location. Also, be sure to iron your clothes before so there's not huge wrinkles distracting from your faces either!
We are all about bringing scarves, jewelry, hats, glasses/sunglasses, etc. You can mix and match them with different outfits, and let's be real- they can definitely make an outfit cooler. Just avoid anything super clunky so it doesn't distract! And also please avoid watches so we can get those close up photos without it getting in the way!
Props: When we think "props", our minds flashes through all of the cringe-worthy Pinterest photos we've seen of cheesy chalkboards and hobby lobby props brought to shoots that just basically sit there and have no movement. But props don't have to be cheesy! Props could be a dominos pizza picnic, a motorcycle, your pets (if you have a dog and don't bring it we will be pretty upset), blankets, a truck/car, a campfire, a bouquet, a paddle board, etc. If you have props you wanna incorporate, let us know and we can make sure to incorporate them in a non-cheesy way!
Pinterest: Okay. Pinterest. Truthfully, it is a photographer's nightmare. Don't get us wrong-- Kat loves Pinterest. It has such good ideas! But when you send us a photo saying, "We really want to get this pose", it causes a little bit of an issue. First of all, chances are, the photographer uses different gear that we do, so we won't necessarily be able to replicate it. Two, we really try our hardest to steer away from stiff poses because they are awkward, so when we literally have to put you into a pose that another photographer did, it creates stiffness. Finally, it totally takes away from our creative process-- I swear we aren't those obnoxious, artsy-fartsy people. Hear us out. When we recreate a photo, you are asking us to literally copy someone else. We occasionally draw inspiration from others, but we never want to copy anyone. You are also hiring us for our style, and posing is a part of that. So we just ask that you trust us and our creative process. If you are really insistent on having a certain pose, we ask that you limit it to no more than 2, because the more we do, the more we have to take time out of how we usually run things, and it can become incredibly tedious.
So, let's talk about how to incorporate the things you love in a fun, creative way...
As we mentioned before, Natalie & Scott brought his motorcycle to their session. It definitely added a "them" vibe and totally made their session unique and their own.
Marlena and Daniel met in high school, and she used to make him waffles. So for their engagement session, they rented out an Airbnb and made waffles together. SO unique, and still one of our favorite sessions to date!
Some people don't bring props or anything, and let the location tell a part of their story, like Rocki & Alex, as mentioned above. Either way, we can definitely work together to tell part of your story!
number eight: being on time
We totally hate to bring this up because engagement photos are meant to be fun and this is less than fun to talk about, but when we decide on a time, it's for a reason!
Usually, we try to aim to shoot during golden hour, when the sun is just rising or about to set, because it makes the lighting super creamy, and it is beyond flattering on your skin. So when you are late, even by just 10 minutes, it can throw that off, resulting in uneven light which can leave funky shadows all over your face.
Furthermore, we often have multiple shoots during one day, so when you are late and we have to wait around, you either run the risk of missing out on time with us, or you make us late for our next session.
Plus, running late is stressful, and we need you to be happy and carefree during your session. When you are tense, it absolutely shows.
So, because of that... we now charge a $50 rescheduling fee. Yes, even if it is a free session. If you are running more than 15 minutes late, we will consider you a no show, and will require a $50 fee to reschedule. This is because we could have filled your timeslot with someone else, and by holding your slot, we unfortunately lose the opportunity to make money with someone else who could have filled your slot. If you are less than 15 minutes late, understand that it will cut into your time. So you might only get a 45 minute session, rather than a full hour length session. So we really, really suggest you make it to your session on time! We understand things happen, but we respect your time, and we hope you will respect ours!
So please, please, please make sure that you are on time for your session!
Okay, now that that awkward housekeeping info is out of the way...
a few things to keep in mind…
we will cover this when we see you too, but we just want you to remember a few things…
1. Don't be anxious! We make sessions a ton of fun. Try your best to get excited rather than nervous. If you're dreading your session, you will probably be able to tell. So go into this with a fun and refreshed attitude!
2. The first 15 minutes of anything is awkward. Embrace it! We swear you will warm up as we go, and you will feel like total models by the end of it.
3. We do a lot of goofy prompts, so be prepared to laugh a bunch and let loose!
4. DO WHAT FEELS NORMAL! Don't listen to your mom's advice to stay still and smile. If we put you in a pose that feels awkward or posey- STOP. Make it your own!
5. The more movement the better-- if you're staying still and we snap 5 photos, they will all look the same and you'll only get one back. If you move a bunch, you'll get more variety. And hey, that means more photos!
6. Don't panic if we aren't tell you what to do. It's a good thing! It means you're nailing it, and we are making sure we are getting the perfect shot.
7. IT'S A COMBINED EFFORT TO MAKE THESE PHOTOS MEANINGFUL. Be yourself. Have fun. We promise it'll pay off!
8. Remember to relax. Getting photos done doesn't have to suck! :)
One Last Word of Advice...
be prepared to have fun!
Out of all of the information we gave you, this is legit the most important piece of advice we can give you. When you go into the day knowing you are going to have fun, and let yourself relax, that is when we are able to truly capture your personalities and your story. Here's the thing- no one is really "awkward" in front of the camera, they're just nervous! And we have been doing this for years, so just sit back, relax, and trust us. We seriously hear from every single couple that they are awkward, and it's just not true at all. You are not awkward! Get that out of your head.
Think of it as a double date, think of it as a fun day with your fiancee. Whatever you need to do to get those nerves out of your head. I promise as we get going, it'll feel so natural and fun, you'll probably forget we even have a camera in our hands. So be ready to be goofy, to laugh a lot, and to get super cuddly. Here are some examples of what photos you will get when you are able to get rid of that toxic mentality, and just let loose:
We get traditional photos too, but let's be real... these are more fun!
So, here's what to expect:
We always say the first 15 minutes of anything is awkward. Rest assured, our session will be very laid back and we provide lots of direction so that moments are candid but you always have something to do! No need to be a professional model beforehand, although we think you already are and you will too once we are done ;). Most sessions take around 1-2 hours. Sessions may be a little shorter or longer depending on our location choice. Come to your session ready with an adventurous spirit and a refreshed heart. I recommend taking some time on the day of to do something that is stress free and try your best not to rush!

After The Session: After your session, your photos will take about 2-4 weeks to arrive in your personalized online gallery. Thank you so much in advance for being patient with us! We take our time in the editing process so that every photo you get will be up to my standards. You can download the photos directly and have the option to order prints through us! Once you have your photos, feel free to share on social media. We simply ask that you credit my business (instagram: @egglestonandco) and that you do not put filters on any photos!
PS: We just revamped our Pinterest boards, and we will be adding to them quite a bit! So if you want more engagement outfit inspo, go HERE.
Alright y'all. that's about all of the information we have for ya!
Please do not hesitate to reach out and ask us any more questions you may have!
Now let's do this thing and have some fun!